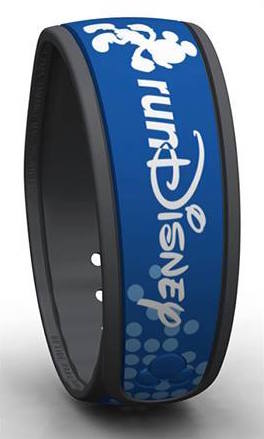 The runDisney 2015 Marathon Weekend runs (no pun intended) from January 7-11, 2015. This year they've posted a picture of some of the merchandise available for purchase at the event if you're signed up to run. A picture of all of the merchandise is here on the runDisney Facebook page.
I've gone ahead and cropped out the most important aspect of the image, the new custom graphic MagicBand! It's not yet known if this is limited to a certain number or if it makes lights/sounds at FP+ touchpoints, but we'll find out soon in early January.
Special thanks to Angela Haines for bringing this to my attention from the MagicBand Collectors Facebook page.