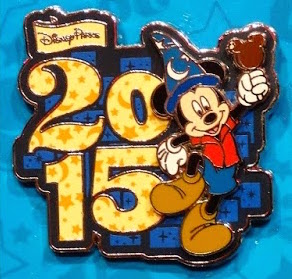 Rumors have started coming to me today about a new MagicBand to be released on or around New Years Day 2015. This information is from a reliable source. A new band could be themed with the new 2015 font and logo used on new theme park merchandise. Disney has yearly themed merchandise to allow families to celebrate the year they went on vacation at Walt Disney World, and 2015 is no different. This may be the first year they add themed MagicBands to the mix though.
Here's an example of the font and colors used for 2015. Note that this is just a variation of one of many designs for this coming year, but gives you a good idea as to what to expect on the band itself.
My guess is that this band is marketed as either Open Edition or Limited Release (because it will only be available for one year).