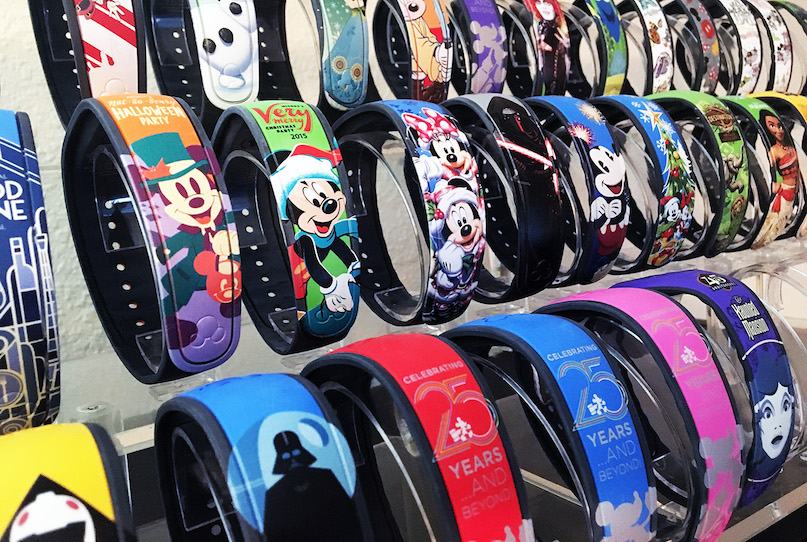 Before I begin, please note that I am looking for feedback and opinions in the comments about this article. I'd love to hear your thoughts. Many Disney employees and Cast Members read my blog often, and I'm sure they'd love to hear your feedback as well.
Every year or so I try to write an opinion piece about what my current thoughts are on the state of MagicBands. This past year, 2016, was a big one with MagicBands which brought us the most Limited Edition and graphic bands ever being put on the shelfs within a year, as well as the major introduction of MagicBand 2. Old ideas evolved, like MagicKeepers, but fun ones faded away, like the yearly Annual Passholder MagicSliders (which are now the same design year after year). So where are MagicBands headed? What new ideas can be injected into them? Below are some thoughts.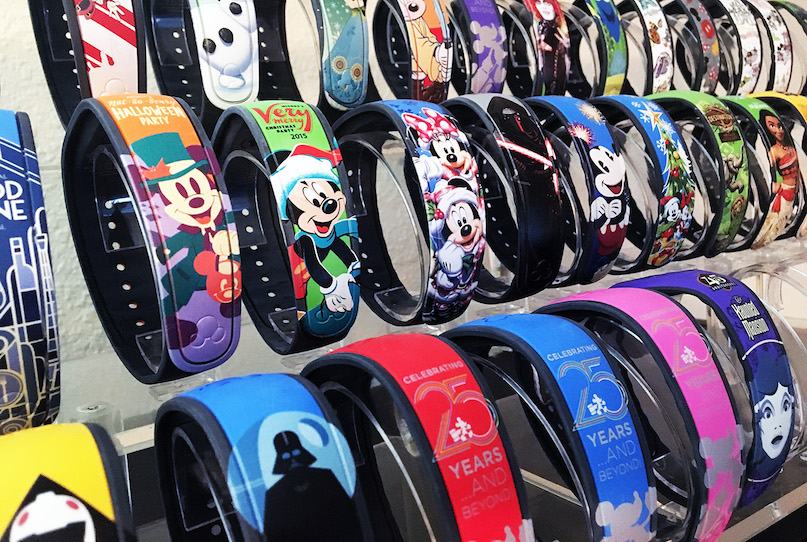 2017
Turn On the Sounds! – Most MagicBand entry points at Walt Disney World have the sounds turned off when you touch a band to the touch point. The circle lights up with colors, but no sounds are made because they've been turned off. I am assuming that the reason for this is because the constant "bling bling!" sound annoys Cast Members after hours of hearing it. But that is not customer/guest friendly and not an excuse to have the sounds off. People pay $35+ to buy Limited Edition MagicBands and to get the special effects that come along with it, and it's not fair that they only see the colors without the sounds. This is a common complaint that I hear often here on my site, on Twitter, and on Facebook, and it's #1 on the list of things Disney needs to fix when it comes to MagicBands. Turn on the sounds!
MagicBand 2 On Demand – This one is a no-brainer and I'm sure is on the way shortly. The On Demand system needs to be upgraded for MagicBand 2. Watch for this before the end of the year in my opinion. Hopefully some new designs come along with it the upgrade.
Fix My Disney Experience – A couple of issues here. First is a simple one: Update the graphics across the entire site and all of the mobile apps to show MagicBand 2 images. Second, and more importantly, when a guest has tons of MagicBands linked (like 100+) the site doesn't load any bands and they can't be managed. These issues needs to be fixed soon.
On Demand Limited Releases – In the summer of 2016 Disney tested doing monthly designs as Limited Releases at the On Demand stations for Star Wars. Although this was a fun idea, there are a few problems I have with it. One is that collecting them all can be very expensive. Maybe stick to one new design a month. Secondly, the quality of On Demand isn't quite up to par with the on-shelf graphic bands. For a Limited band, I expect the best. And lastly, the back of the band doesn't say Limited Release on it anywhere, leaving the collectability a little less than desired. I wouldn't be sad if Disney ditches this idea and just sticks to Limited items being on-shelf only.
Food & Wine Festival Needs a Band – This one actually baffles me a bit. Nearly every major event at Disney World got a Limited Edition MagicBand for 2016 except Food & Wine, which is the longest running festival. In fact, a major reason many people I know personally bought the special Premium Package in 2015 was for the included Food & Wine MagicBand. I hope Disney fixes this for 2017. If they are worried about not selling very many, keep the Edition size below 2000.
Make an Annual Passholder Band – Disney Vacation Club members got their own special MagicBands last year that do special effects at touchpoints, and so should AP holders. This would be a win for Disney in that AP holders would feel special and be more willing to wear the bands more often (especially locals, who are the least likely to wear them beside off-site guests). Why not give them away for free when AP holders get to chose a free MagicBand on the My Disney Experience website?
Keep Limited Edition Sizes Low – Late in 2016 Disney made a smart choice by keeping LE sizes between 2000-3000 per design. I hope Disney continues to keep sizes low, and maybe even lower, to keep their profits and demand high, while also driving collectability now and into the future. Making sure the collectability doesn't get overstaurated is important. Disney was smart by making the May the 4th and Revenge of the 5th bands last year at 750 each and I hope they do that again this year. I'd even love to see some bands down in the < 500 range if possible.
More Unique Graphics – Bands with graphics for in-park characters, rides, and events are great, but I hope Disney expands their universe a bit like they have with phone cases. Make retro designs with Who Framed Roger Rabbit?, Dick Tracy, and Disney Afternoon. What about TV designs for Black-ish, Fresh Off The Boat, Freeform shows, and more? Expand, expand, expand. A MagicBand is like jewelry, and people like to customize and feel unique. And where is Indiana Jones?
Festivals and Events – I'd love to see some LE bands for events that are exclusive to buy-in packages. For example, what about a nice Candlelight Processional band only for people who buy the dinner package? Or what about a Force Friday band only for people who buy $250 worth of merchandise at the next Force Friday event this coming winter for the new Star Wars movie? Or maybe a special band only for people who go on the behind-the-scenes Safari tours in Animal Kingdom? These are just ideas, but there are many options here to promote buy-ins to events and special offerings.
Beyond 2017
Marvel – This is a big one. Disney needs to find a way to get Marvel characters on MagicBands. I know they have some contract issues with Universal Studios Orlando about this, but with Spider-Man MagicBandits recently appearing, I'd love to see some MagicBands here soon.
Up-sell Special Effects – Similar to On Demand, it might be a good idea to sell the ability for users to add special effects to their bands (via the icon or puck) with a one-time purchase at On Demand stations. These effects could be different than the LE ones, and maybe users could choose where the effects are made, what colors they make, and what sounds they make, all with different price points. There might need to be some infrastructure put in place for this, but it could be a Build-A-Bear style money maker.
More Colors – We need a white and a black band. Maybe even a brown and a teal as well. Keep the excitement going with one new color every year. With the Dooney & Bourke bands being on a white base, maybe we have some hope here?
Promo Bands in a Box – Promotional bands, like the D23 Amazing Adventures band last year, deserve to be in a special box. This includes Disney Parks Blog giveaways, Disney College Program Alumni bands, and more. It adds a special keepsake value to the bands and gives them an aura of collectability. Giving them away like junk candy does a disservice to the product in my opinion. D23 did a great thing this year by including a box.
MagicBandits Like Pins – MagicBandits in their current form are junk. They are plastic, easily fall out, and most people seem to ignore them. What Disney should do is make them metal like pins, but with a better clip-in mechanism. Then they could sell them like pins, with Limited Editions, intracite designs, and more collectability. Figure out a way to evolve this. Let the MagicBand replace the pin lanyard.
Collectability – It may be a pipe dream but I'd love to see MagicBand holders, cases, and other accessories from Disney revolve around collectability, similar to what they do with pins.
Watch / Screen – MagicBand 3, or beyond, needs to include a watch or screen somehow. Maybe the tech isn't there yet, but this is a major must-do once it is. Integration with Apple Watch is also requested, but Apple needs to open up NFC first if Disney wants a crack at it.
So that's it for my outlook this year and beyond. Watch are your thoughts? What do you want to see with MagicBands and accessories? Leave a comment below.