Finally after months of speculation, an official solid purple MagicBand has appeared into public view. I was lucky enough to obtain this test MagicBand from a trusted source, and it may be an indication that a purple MagicBand may finally be sold at retail very soon. I have been hearing from multiple Cast Members that purple is the most requested and desired color that is missing from the current lot that is of sale. I also have a prototype Teal band as well that I got a few months back that you can see by clicking here.
So here are the details: The purple color really pops on this MagicBand. I was afraid that maybe it would be too much on the blue side, but seeing the color in person really impresses me… it's vibrantly purple. An interesting aspect of this band is that the surrounding strap is actually black, not dark gray, which is the first time I've ever seen solid black used on a MagicBand that was printed or in graphic form. This is also fantastic because the black is a great contrast color and helps the base color pop even more. I hope they use black on straps for all base colored MagicBands in the future.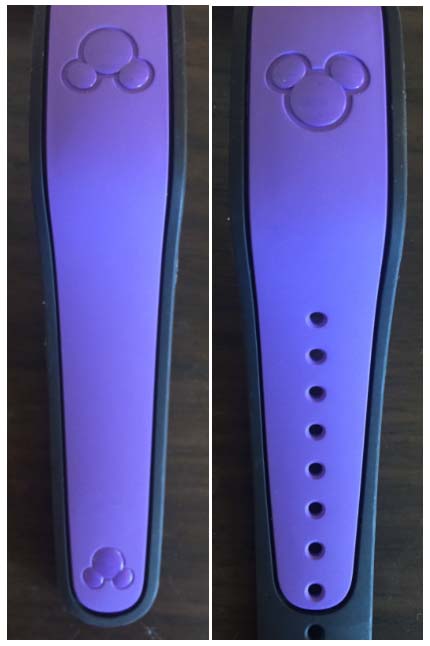 Another interesting aspect of this purple MagicBand is that the back has all of the details filled out. This isn't a prototype MagicBand, but more of a test version, as the FCC ID number and even the MagicBand ID is there. But the MagicBand ID number is blacked out with a pen, and the number is actually a test ID used in development and can't actually be linked to a live account. I know someone else who also has a purple MagicBand, and his is identical even down to the MagicBand ID, which would be impossible if this were a real retail band.
Don't worry though, this does give me hope! If the purple MagicBand is this far along in development, I have a feeling that a retail release to the public isn't that far off. Of course I'll post as soon as I know any more details about when a purple MagicBand will appear for sale.