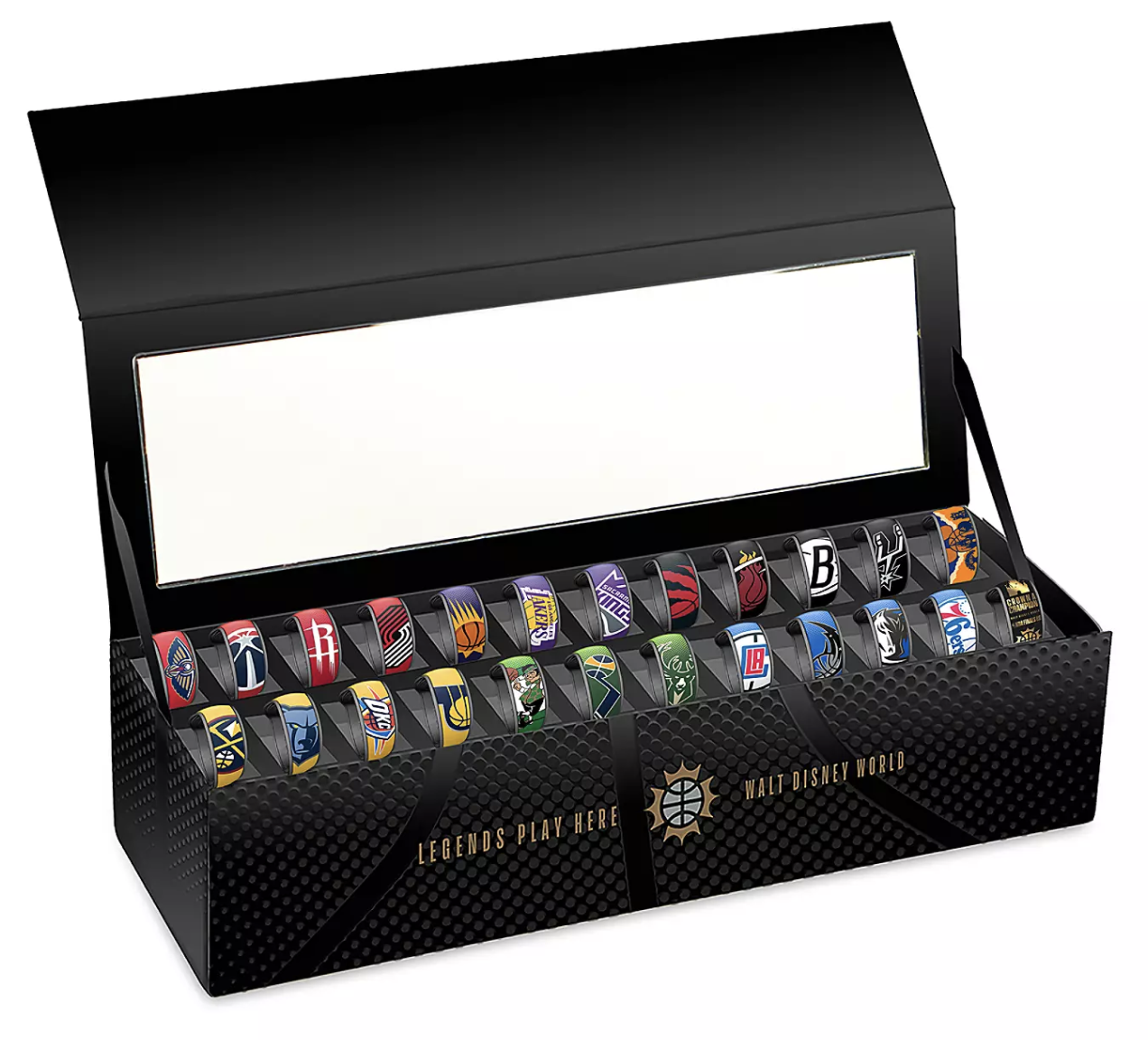 shopDisney today released for pre-order a new first-of-its-kind MagicBand box set commemorating the NBA playing all of their games at Walt Disney World this year. The box set it Limited Edition to just 2020 of them made. These band designs are the same as previous articles on NBA bands I have mentioned, except the base colors of the bands themselves are different and not gray. The total cost is $595, which works out to $25 per band (24 total bands).
To tell you a bit more about these bands, here's a direct explanation from shopDisney:
The NBA is back in action at the Walt Disney World Resort, so get your game on with this collector's box of 24 MagicBands designed exclusively for fans of the participating teams.
Limited Edition of 2,020
Includes 24 different MagicBand 2 designs in all!
22 standard MagicBand 2 designs featuring the logo of each participating team, inspired by those worn by the NBA players. Teams include: Washington Wizards, Toronto Raptors, Orlando Magic, Portland Trail Blazers, Indiana Pacers, San Antonio Spurs, Los Angeles Lakers, Houston Rockets, Philadelphia 76ers, Memphis Grizzlies, Oklahoma City Thunder, Miami Heat, Sacramento Kings, New Orleans Pelicans, Milwaukee Bucks, Boston Celtics, LA Clippers, Utah Jazz, Dallas Mavericks, Brooklyn Nets, Denver Nuggets, and Phoenix Suns*
One standard "Make History" MagicBand 2 design featuring Mickey Mouse icon and four park icons of the Walt Disney World Resort*
One standard "NBA Finals" MagicBand 2 design featuring gold artwork and the logo for winning team of the NBA Championship (TBD)*
Comes in collector's presentation box with window display and "Legends Play Here – Walt Disney World" logo*
Inspired by the NBA Experience at Disney Springs*
Part of the Disney Parks NBA Experience Collection
If you want to order this band, you can do so by clicking this link which will take you right to the product.