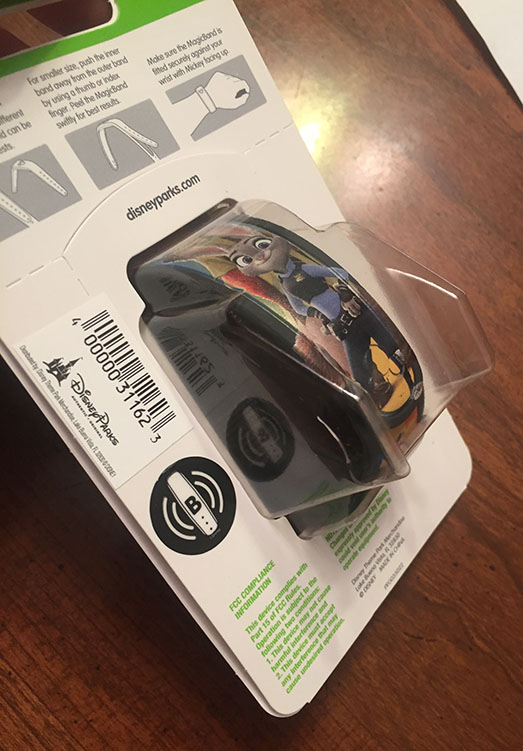 One of my readers, Victor, sent me in this tip, so special thanks to him.
It looks like the new Zootopia MagicBand that is now available on the Shop Disney Parks mobile app, and being released in the parks on March 11th, has new MagicBand packaging. A few of my readers have already gotten the band shipped to themselves, so they've given me a sneak peak as to what to expect. The packaging has changed for MagicBands again, and it is a bit of a surprise as the packaging  was just changed a little over a year ago.
What's interesting about this change are a couple of things…
It looks like the plastic backing is made to wrap around other bands on a rack. So now they can all be lined up and look nice on a shelf instead of flopping left and right everywhere.
The band has shifted positions again, this time with the Mickey head pointing towards the front of the packaging like it does currently with solid colored bands, and like it did previously with the original box design. My guess is that this change was made so Cast Member's could more easily scan the Mickey head for linking MagicBands to ticket media. Currently many Cast Member's are forced to open the MagicBands in order to link them because of the angle of where the Mickey head currently sits, so this is a welcome change (but maybe at the expense of the graphics showing clearly on the shelves).
Here's some pictures. We'll see if it appears like this in the parks on March 11th.