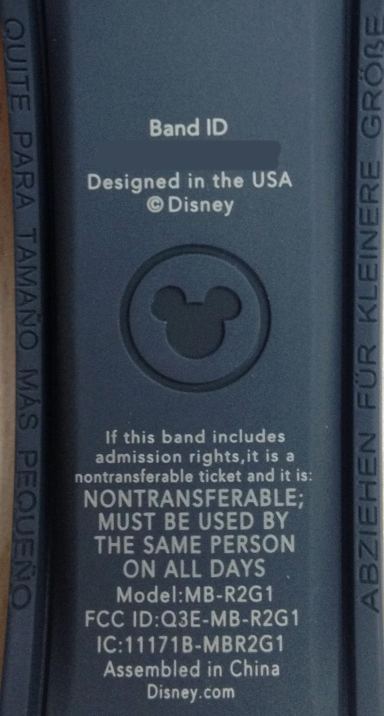 According to recent filings with the FCC (Federal Communications Commission) in the USA from The Walt Disney Company made on January 21st, 2016, the internal electronic components of the MagicBand are about to get an update. The filing for the new model of MagicBand, labeled Q3E-MB-R2G1, has some details about what's new, but also hides some information that could prove to be intriguing… or not.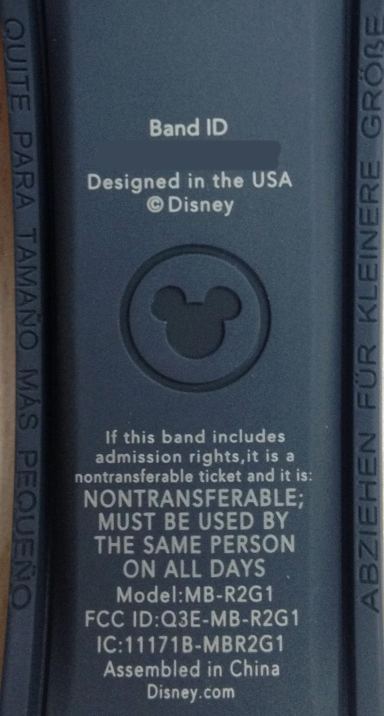 There isn't much information on the new model, but from what I could find shows that the power output of the new MagicBand will be higher than the current one, using 960.0 μW (microwatt) up from 686.8 μW. This could indicate improved communications with touch points and/or long-range sensors.
Northwest EMC, the company that tested the MagicBand for RF (radio frequency) exposure to comply with FCC requirements on October 21st, 2015, stated the following in their findings report:
A previously certified wrist band (FCC ID: Q3E-MB-R1G1) that contains a proprietary DTS radio. This product model [Q3E-MB-R2G1] is a slight modification from the previously tested model. The flexible printed circuit has a minor modification and the plastic outer shell has been modified to improve wearability. No electrical functional changes have been made from the previously tested model.
The Walt Disney Company specifically requested that pictures of this new model and the user instruction manual not appear online to the public until July 19th, 2016. That could indicate changes to the design, but it could also mean nothing, as maybe the internal components are the only thing changing. I wouldn't expect a major external change to the MagicBand, as implied by quote above. It's most likely just referring to the new slightly thinner and more flexible design just recently released to the public, although it currently still contains the first generation electronic components inside.
The current model of MagicBand out right now for public use is Q3E-MB-R1G1, and you can see that number clearly on the back of current bands. The IC number on the back stands for Industry Canada and is their specific ID for their communications device database.