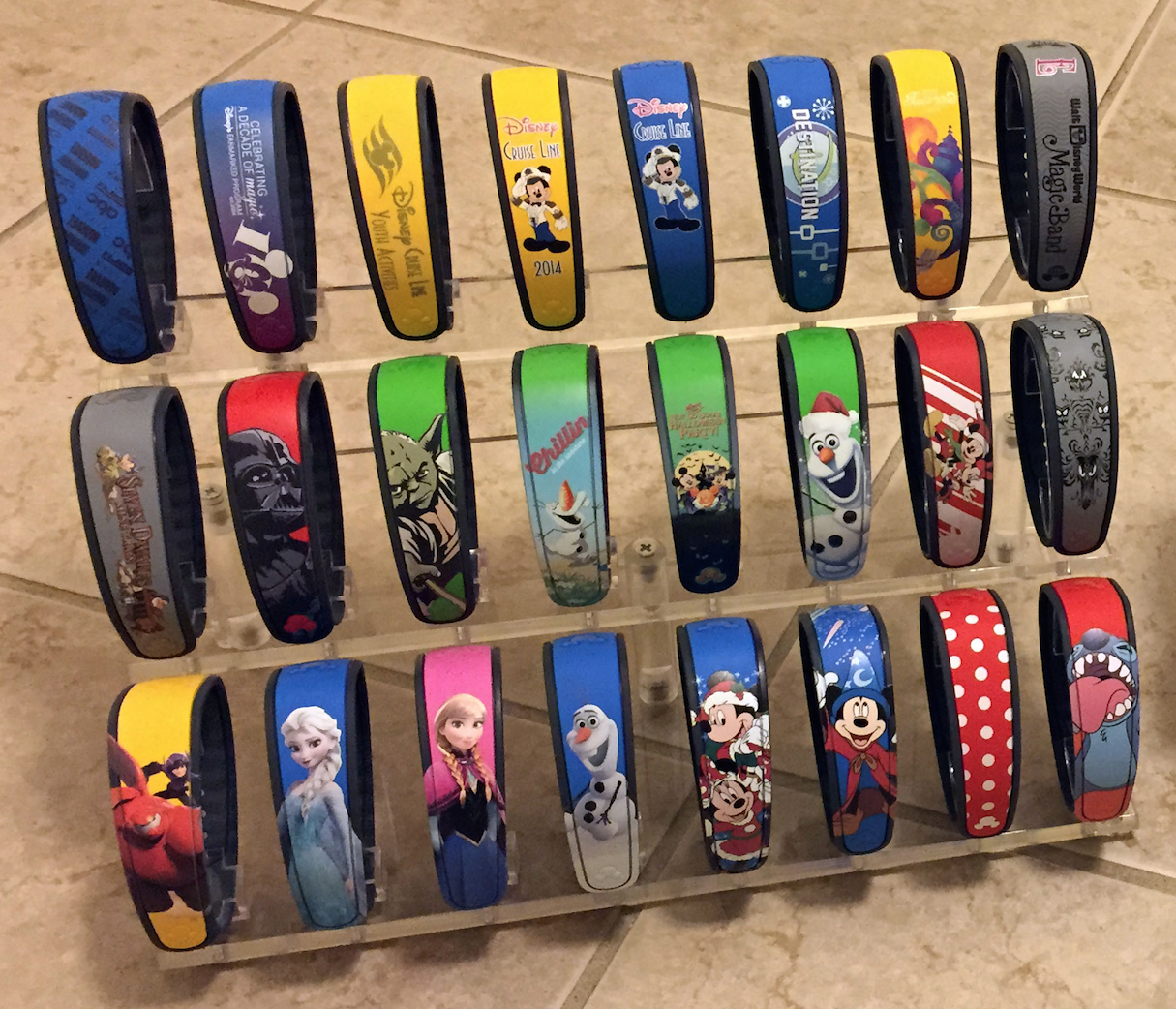 As Disney releases more and more MagicBand designs over the coming years, I've slowly realized that us collectors have a dilemma on our hands: How can we display the MagicBands in a way that shows off their beauty and design, but not take up massive shelf space sitting in boxes or awkwardly stacked in piles about ready to fall over?
One of our readers, Matt Howard, posted on our Facebook page (please Like it for daily updates) a picture of his collection. As you can see from the picture below, his MagicBands are hanging from rungs where you can easily see the design and move the bands around. Great idea!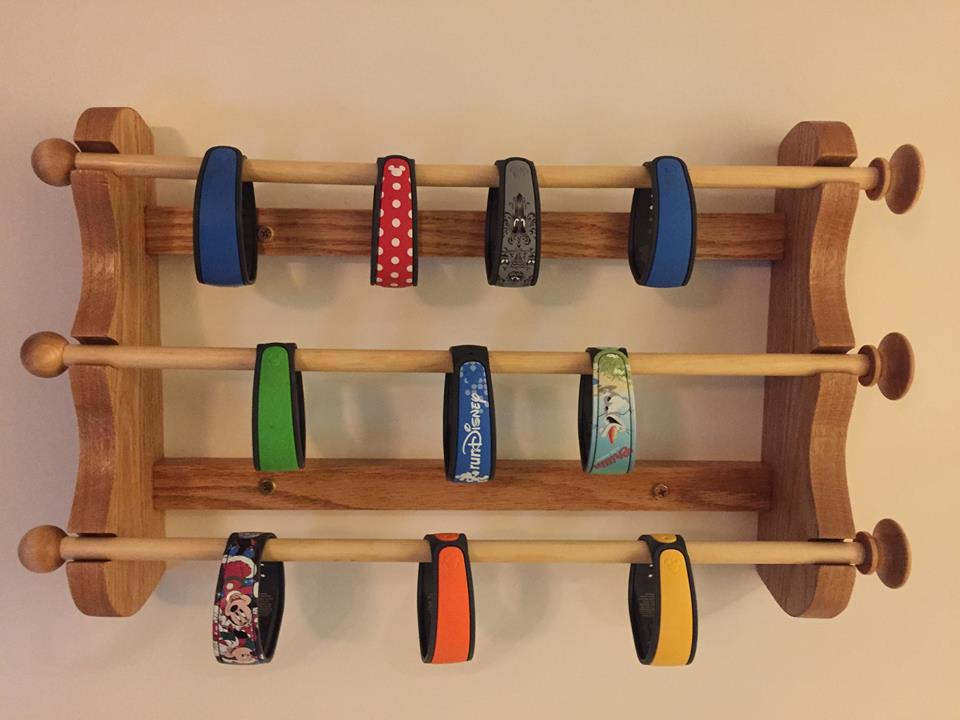 This got me to thinking…. what is the best way to display my bands? I have 36 individual different MagicBand designs currently, including the solid color bands, so it has to be compact and yet still display them in an organized way. And not only do I love the MagicBands themselves, but I also love the boxes that the Special Edition bands come in. How do I display those as well? After looking around for the perfect solution for a few weeks, I think I've finally stumbled upon what works for me.
First, the Special Edition boxes. I searched high and low and found the perfect shadow boxes that have the right depth and the right height for four MagicBand boxes to fit into. These shadow boxes also have hangers on the back, so I can hang these vertically on a wall, taking up less space.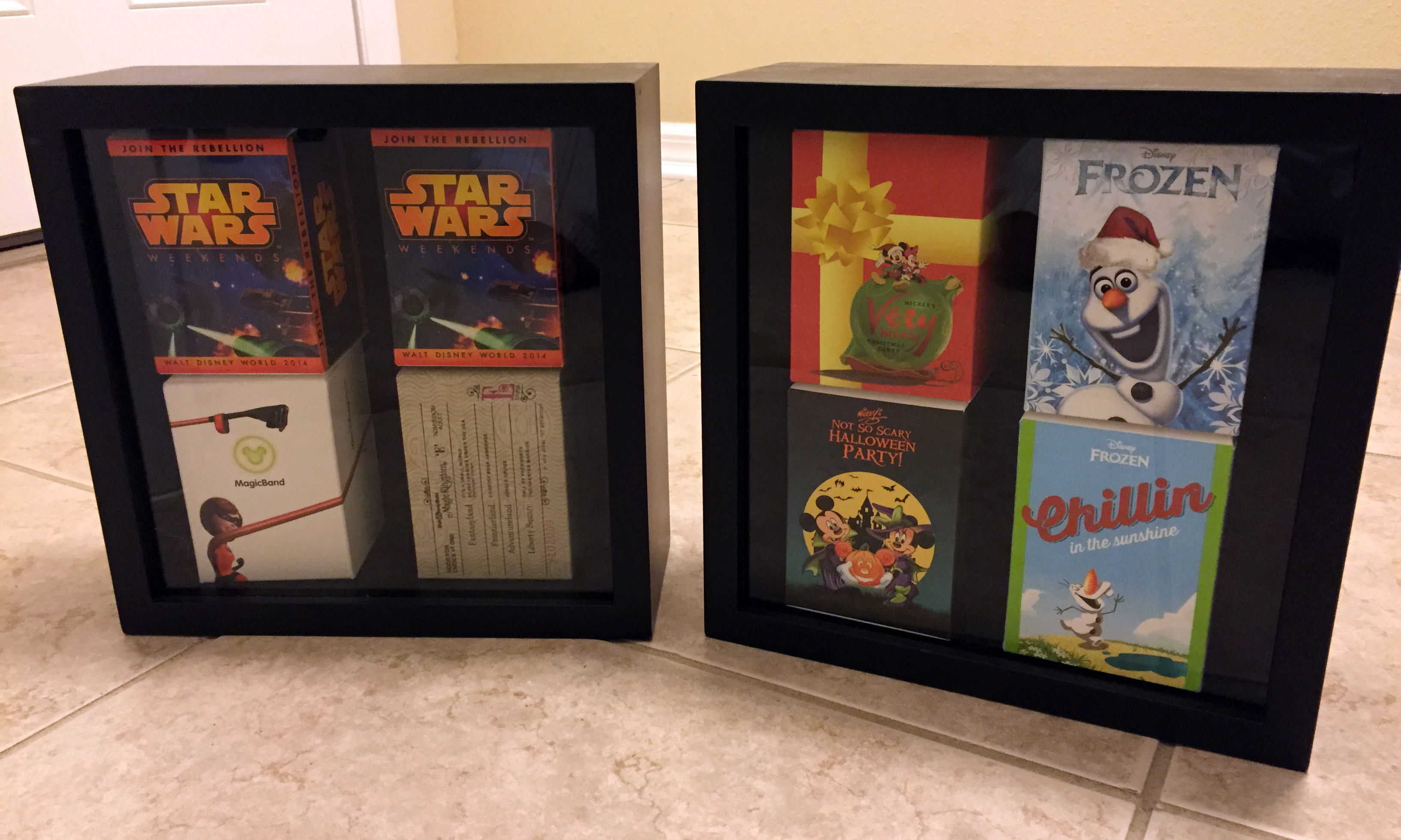 Next came the MagicBands. I stumbled upon someone on eBay who was displaying their MagicBand in an awesome way for an auction, and I asked them how they did it. They said to use the stand that came with a FitBit exercise band! I thought that was an awesome idea, so I bought an extra off her that she had and it looked great. The problem was that in order for me to get more, I'd need to buy at least $100 FitBit for each, which I obviously was not willing to do.
So I kept searching, and after a while I stumbled about some watch displays. They looked perfect. I ordered six and they worked great and the cost was low, but another problem quickly showed up… I needed to get 36 of these things. That wasn't going to work either! And that's when I dug deep on the internet and found something really perfect: A jewelers multi-watch display. Instead of trying to describe it, I'll just show it to you (click the picture to see a larger view):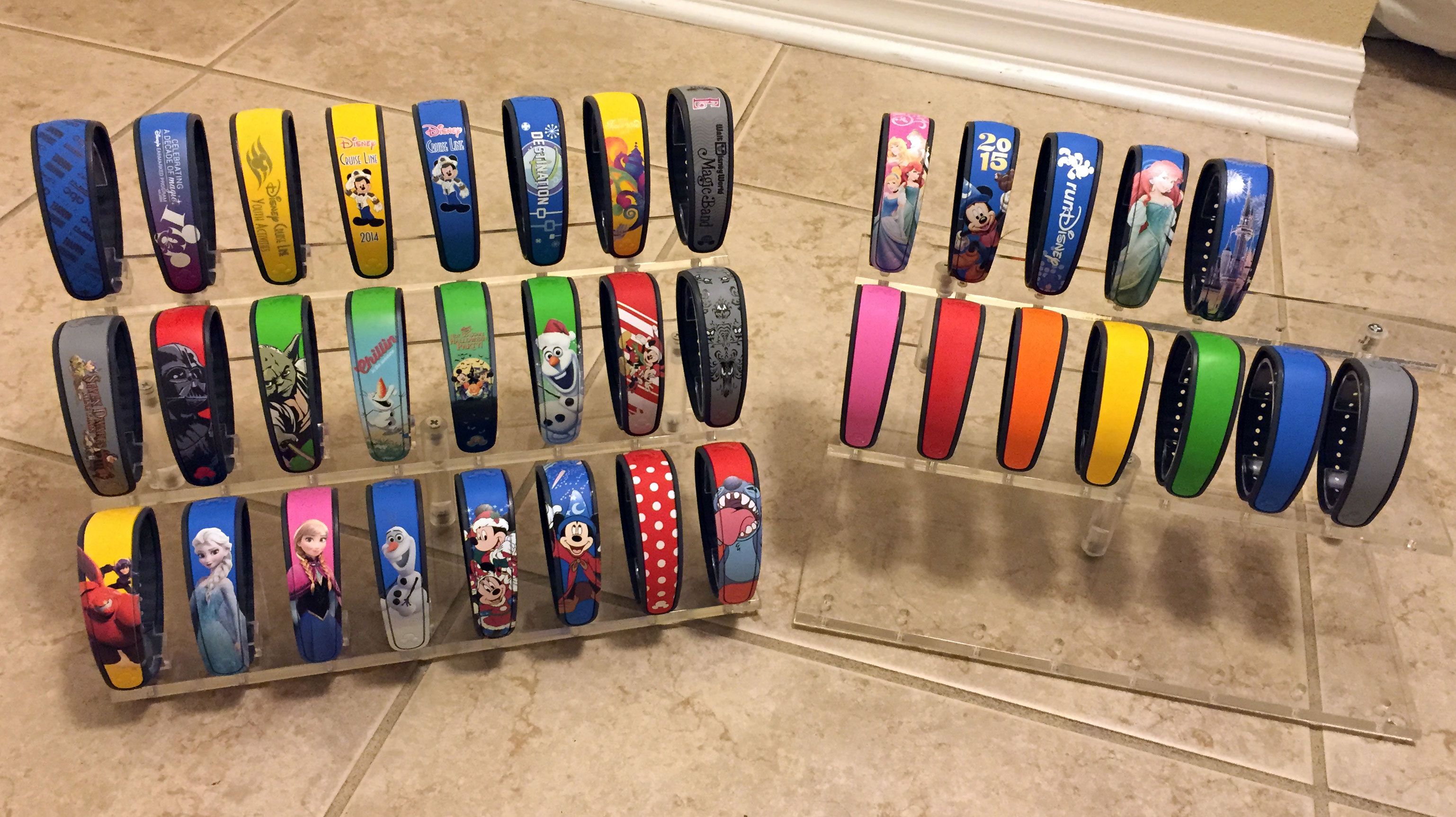 Perfect! It's compact, it really displays the graphic on the band nicely, the bands fit perfectly and don't wiggle, and the display is expandable. You can set these on a shelf right under the shadow boxes and the room it takes up is minimal. As you can see, there are three tiered levels per display. It really is the best solution I have found to date if you have more than ten MagicBands that you wish to keep.
I encourage you to find out what works best for your collection, but for anyone who may be interested, I can purchase and ship to you a display kit just like mine. Here are the details:
MagicBand Display Kit
2 Shadow Boxes (as shown above)
1 Watch Display with three tiers (as shown above)
$149 + shipping
Post comments below about what you do to display your collection in your home. I'd love to see pictures from everyone, so if you can, e-mail them to me or post them on our Facebook page for everyone to see. Happy collecting everyone!