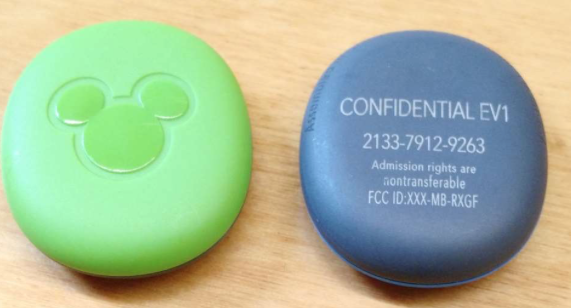 A new style of MagicBand similar to the popular FitBit step tracker is officially in development and could be considered the next evolution in MagicBands. I have known about this development for around two months now, but have kept quiet until some hard evidence appeared. Well today the evidence has surfaced thanks to some public records from the FCC.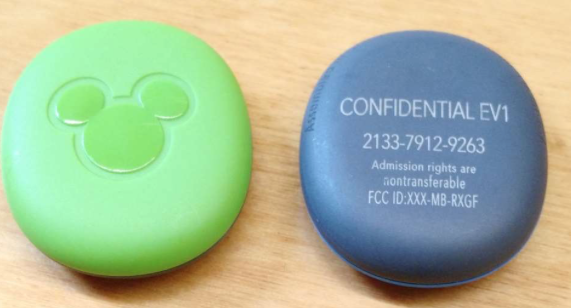 A new post on the FCC's system for MagicBand ID Q3E-MB-R1G2 shows some pictures of a prototype MagicBand puck that would fit into a changeable strap. This would allow guests to keep the same puck and interchange different straps as they would like. It would probably lower the cost of graphic straps for guests (because no chips would need to be embedded within each strap), and also help lower costs and IT support for Disney, as they would not need to send a new MagicBand for every trip. There has been some talk that as guest's accounts have filled up with tons of MagicBands from multiple trips to Walt Disney World (or in my case, from purchasing every graphic band that there is) that it's been really slowing down the back-end system and servers that manages MyMagic+ features and is causing the IT department some real headaches.
Here's a size comparison for how big the puck actually is… current MagicBand is on the left, development puck is on the right. As you can see, the width and thickness is roughly the same as it is currently if you include the gray outer strap.

If Disney transitions to this type of MagicBand permanently in the future, there will definitely be some questions for the collector community: What will happen with existing bands? I'm assuming they will still function. But will future Limited Edition bands be made? And how will they be able to have special lights/sounds at touch points within Walt Disney World if guests always use the same puck ID? And what's the future of On Demand? These are all pending questions the community will have assuming this rollout eventually happens.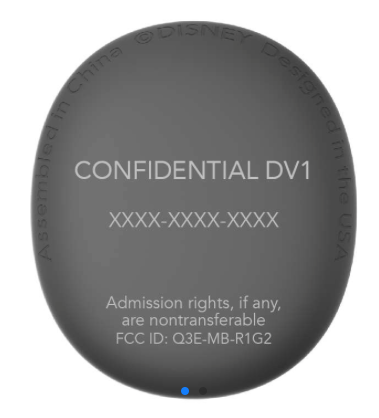 If you recall, the first MagicBand has the FCC ID of Q3E-MB-R1G1. When a small electronic component update went out, and the thinner style was introduced, the number changed to Q3E-MB-R2G1. By this change I can assume that the R stands for Revision. This new puck style is ID Q3E-MB-R1G2, and I'm now assuming that the G stands for Generation. So we're looking at Generation 2 of the MagicBand.
There is no word on when these will launch, but I do know that these are real and have been tested by internal staff and are not vaporware (meaning not just designs… they actually have been produced in working order). There is an FCC hold on some specific information that Disney has requested be kept private, and that embargo is lifted on February 11, 2017. Will a rollout happen before then?
Here's an idea of how some of the FitBit changeable straps work: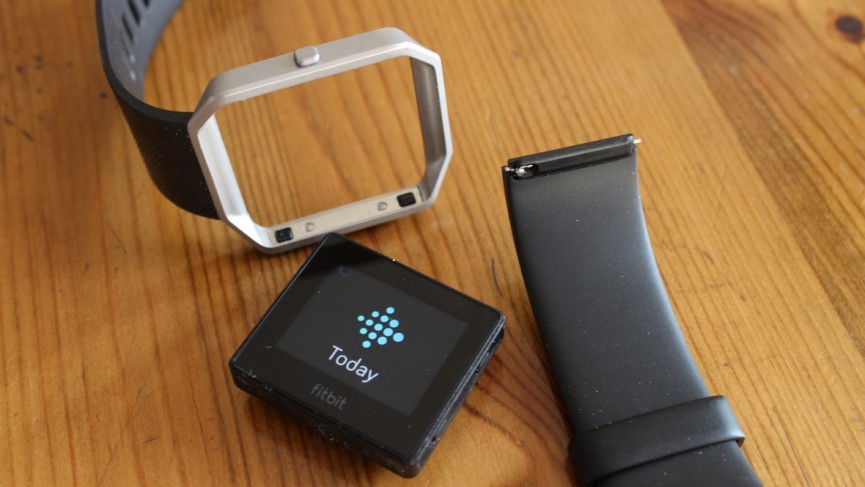 Of course, the moment I have more details I will let everyone know!