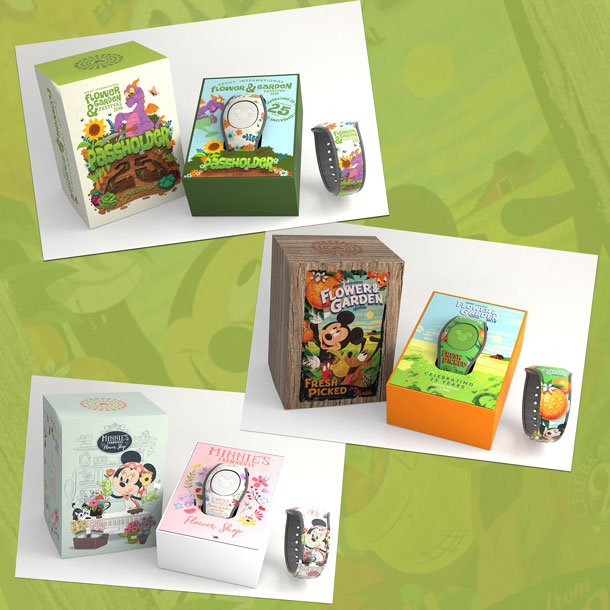 Disney has announced three new Limited Edition MagicBands all for the Epcot International Flower & Garden Festival this year, its 25th anniversary. For the first time ever, Disney is releasing three LE bands for a single festival, and they are all fantastic with some interested special twists.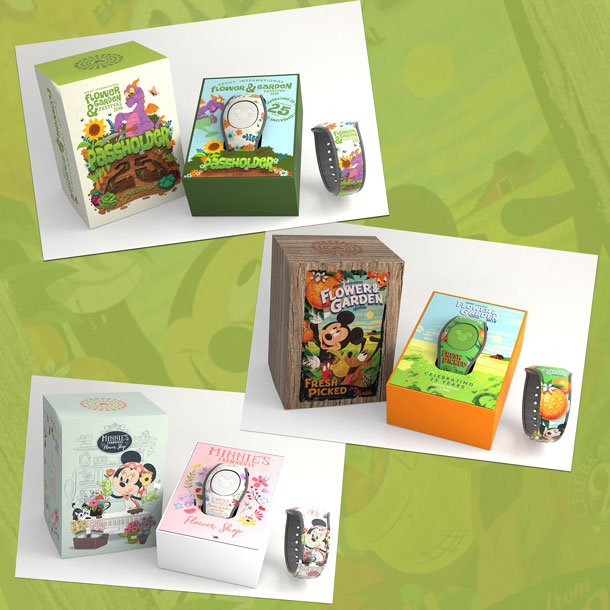 Steven Miller, Communications Manager for the Disney Parks Blog, has more details:
When the Festival kicks off on February 28, we are releasing two limited-edition retail MagicBands. The Mickey Mouse-themed one has an edition size of 2,000 and is packaged in an orange-scented box. The Passholder Exclusive MagicBand also has an edition size of 2,000 and complements other Figment products created for the event.

One additional MagicBand will be released at a future date during the Festival. Packaged in a box that smells like flowers, the Minnie Mouse-inspired item has an edition size of 1,000.
The Minnie band being released on a later date is interesting, and may coincide with the new Minnie Annual Passholder magnets giveaway starting on April 9th. We'll have to wait a bit longer to find out more details from Disney on when the actual release date is. From what Steven Miller said on a comment on the Disney Parks Blog, the prices for all three bands are still $32.99 each. The barcode SKU for the Mickey band is 400020750242, for Figment is 400020750259, and for Minnie is 400020750266.
The low edition amounts, especially the LE 1000 Minnie, make me very happy, as they keep the bands in the more exclusive and rare territory for collectors. They also give Disney a fighting chance of selling all of these bands out, which they've struggled with in the past for Flower & Garden festivals. I know many people are also very happy about getting more Annual Passholder exclusive bands. I'm also curious to see if all three of these bands will make special effects at the Epcot touch points during the festival this year. Overall though, this is an exciting announcement.