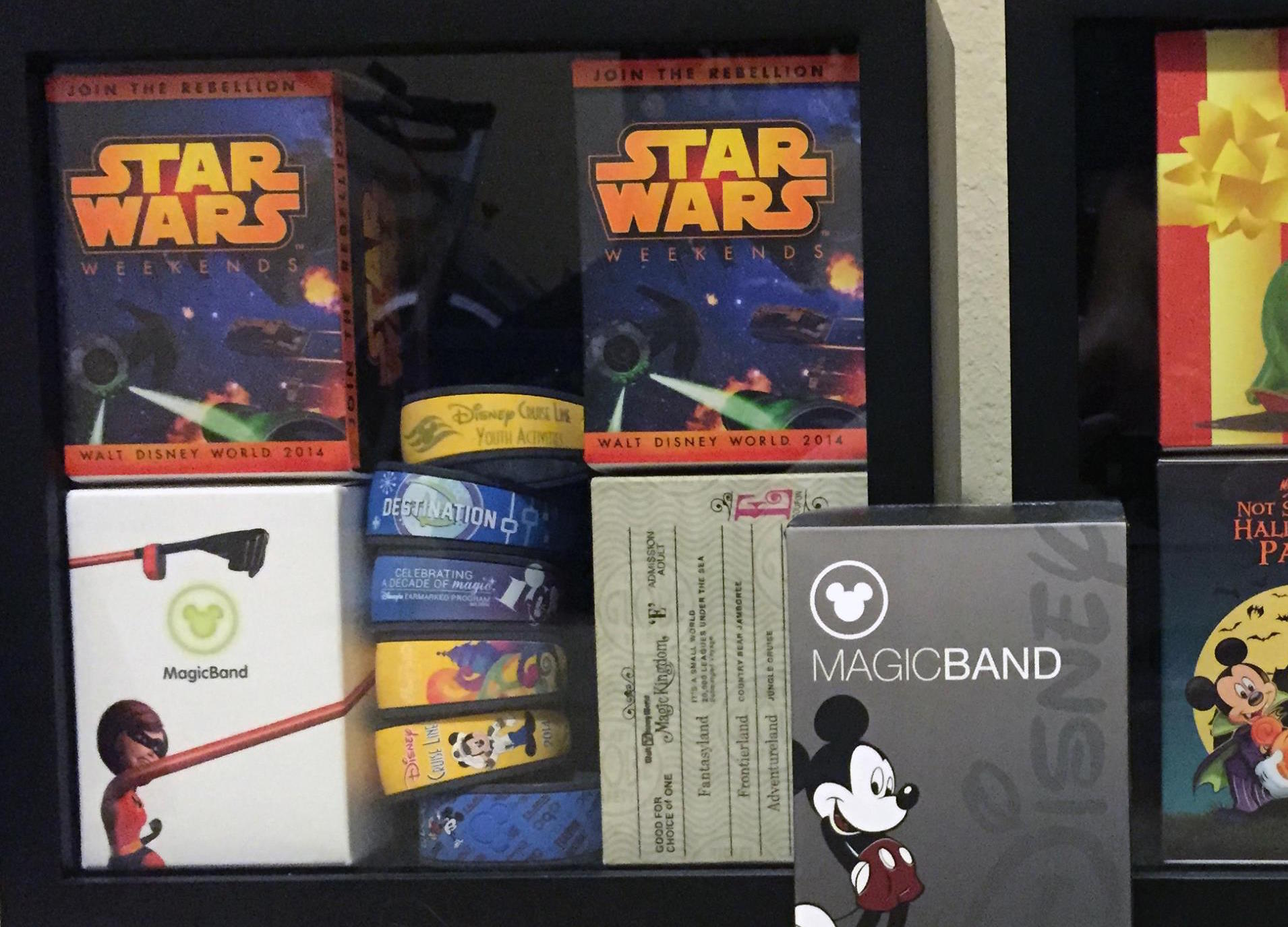 I often get asked on this website and via e-mail how to buy MagicBands if you don't live near Walt Disney World (or even if you do and can't make it to the parks) and want the latest bands for an upcoming vacation or simply to collect. Well, I've gone ahead and compiled a list of every graphic MagicBand and where you can find them. Many rare bands are only available now on third-party marketplaces like eBay, and others can be found on the Disney Store and the Shop Disney parks app, but I've gone ahead and listed as many direct links as possible to help everyone out.
I've listed everything… from Limited Edition, Limited Release, Open Edition, On Demand, standard colors, promotional bands, and even a link to find prototypes.
Every time you buy a MagicBand through the links below, I get a small commission, which helps keep my site running. If you plan to buy a MagicBand, please use the links below and help me out. Thanks!
| | | | |
| --- | --- | --- | --- |
| Name | Type | # | Where to Buy |
| Aulani Stitch Aunty's Beach House | Aulani | | eBay |
| Disney Cruise Line 2013 Yellow | Disney Cruise | | eBay |
| Disney Cruise Line 2014 – Captain Mickey | Disney Cruise | | eBay |
| Disney Cruise Line 2015 – Captain Mickey | Disney Cruise | | eBay |
| Disney Cruise Line 2016 – Crew | Disney Cruise | | eBay |
| Disney Cruise Line No Year Blue – Captain Mickey | Disney Cruise | | eBay |
| Disney Store Happy Holidays 2015 | Limited Edition | 2500 | eBay |
| Dooney & Bourke Downtown | Limited Edition | 1500 | eBay |
| Dooney & Bourke Icons | Limited Edition | 1500 | eBay |
| Dooney & Bourke Sketch | Limited Edition | 1500 | eBay |
| Dooney & Bourke Street | Limited Edition | 1500 | eBay |
| DVC 25th Anniversary Blue | Limited Edition | 2500 | eBay |
| DVC 25th Anniversary Pink | Limited Edition | 2500 | eBay |
| DVC 25th Anniversary Purple | Limited Edition | 2500 | eBay |
| DVC 25th Anniversary Red | Limited Edition | 2500 | eBay |
| Easter 2016 – Mickey | Limited Edition | 3000 | Shop Disney Parks |
| Finding Dory | Limited Edition | 2500 | Shop Disney Parks |
| Flower & Garden Festival 2015 – Anna & Elsa | Limited Edition | 5000 | eBay |
| Flower & Garden Festival 2016 – Figment | Limited Edition | 2500 | eBay |
| Food & Wine Festival 2015 | Limited Edition | | eBay |
| Frozen – Olaf Santa Hat | Limited Edition | 4000 | eBay |
| Frozen Summer 2014 – Olaf Chillin' in the Sunshine | Limited Edition | 5000 | eBay |
| Galactic Gathering 2015 – Vader Red | Limited Edition | 350 | eBay |
| Galactic Gathering 2015 – Skywalker Green | Limited Edition | 330 | eBay |
| Mad Hatter from Alice Through the Looking Glass | Limited Edition | 2500 | Shop Disney Parks |
| Magic Kingdom 45th Anniversary | Limited Edition | 4500 | Shop Disney Parks |
| Mickey's Not So Scary Halloween Party! 2014 | Limited Edition | 5000 | eBay |
| Mickey's Not So Scary Halloween Party! 2015 | Limited Edition | 4000 | eBay |
| Mickey's Not So Scary Halloween Party! 2016 | Limited Edition | 3000 | eBay |
| Mickey's Very Merry Christmas Party 2014 | Limited Edition | 5000 | eBay |
| Mickey's Very Merry Christmas Party 2015 | Limited Edition | 4000 | eBay |
| Mickey's Very Merry Christmas Party 2016 | Limited Edition | 3000 | eBay |
| Revenge of the 5th 2016 | Limited Edition | 750 | eBay |
| Star Wars Day: May the 4th Be With You 2016 | Limited Edition | 750 | eBay |
| Star Wars Weekends 2014 – Darth Vader | Limited Edition | 2500 | eBay |
| Star Wars Weekends 2014 – Yoda | Limited Edition | 2500 | eBay |
| Star Wars Weekends 2015 – Donald Duck as Jedi | Limited Edition | 2500 | eBay |
| Star Wars Weekends 2015 – Mickey Mouse as Jedi | Limited Edition | 2500 | eBay |
| Star Wars: The Force Awakens – Kylo Ren | Limited Edition | 2015 | eBay |
| Valentine's Day 2016 – Mickey and Minnie | Limited Edition | 2500 | eBay |
| August 15th 2016: Boba Fett | Limited On Demand | | eBay |
| August 15th 2016: Chewbacca | Limited On Demand | | eBay |
| August 15th 2016: Darth Vader | Limited On Demand | | eBay |
| August 15th 2016: R2-D2 | Limited On Demand | | eBay |
| August 15th 2016: StormTrooper | Limited On Demand | | eBay |
| August 1st 2016: Bad Guy Collage | Limited On Demand | | eBay |
| August 1st 2016: Cute Boba Fett | Limited On Demand | | eBay |
| August 1st 2016: Cute Darth Vader | Limited On Demand | | eBay |
| August 1st 2016: Good Guy Collage | Limited On Demand | | eBay |
| August 1st 2016: Luke and Droid Scene | Limited On Demand | | eBay |
| July 15th 2016: Astro Droid BB-8 | Limited On Demand | | eBay |
| July 15th 2016: Blueprint BB-8 | Limited On Demand | | eBay |
| July 15th 2016: Intergalactic Array BB-8 | Limited On Demand | | eBay |
| July 15th 2016: Pixel 2 BB-8 | Limited On Demand | | eBay |
| July 15th 2016: Pixel BB-8 | Limited On Demand | | eBay |
| July 1st 2016: Boba Fett | Limited On Demand | | eBay |
| July 1st 2016: Jawas | Limited On Demand | | eBay |
| July 1st 2016: R2D2 | Limited On Demand | | eBay |
| July 1st 2016: Tie Fighter | Limited On Demand | | eBay |
| July 1st 2016: X-Wing | Limited On Demand | | eBay |
| June 15th 2016: 70s Artoo Detoo | Limited On Demand | | eBay |
| June 15th 2016: 70s Leia | Limited On Demand | | eBay |
| June 15th 2016: 70s Stormtrooper | Limited On Demand | | eBay |
| June 15th 2016: SW Millenium Falcon | Limited On Demand | | eBay |
| June 15th 2016: SW X-Wing | Limited On Demand | | eBay |
| June 1st 2016: C-3PO | Limited On Demand | | eBay |
| June 1st 2016: Darth Vader | Limited On Demand | | eBay |
| June 1st 2016: R2-D2 | Limited On Demand | | eBay |
| June 1st 2016: StormTrooper | Limited On Demand | | eBay |
| June 1st 2016: X-Wing Helmet | Limited On Demand | | eBay |
| Americana Mickey 2015 | Limited Release | | Shop Disney Parks |
| Americana Mickey 2016 | Limited Release | | Shop Disney Parks |
| Big Hero 6 | Limited Release | | eBay |
| Captain Phasma | Limited Release | | Disney Store |
| Descendants: Wicked World | Limited Release | | Shop Disney Parks |
| Food & Wine Festival 2014 | Limited Release | | eBay |
| Han Solo and Chewbacca | Limited Release | | Disney Store |
| Haunted Mansion – Gray | Limited Release | | eBay |
| Haunted Mansion – Purple | Limited Release | | Disney Store |
| Hocus Pocus | Limited Release | | eBay |
| Hollywood Tower Hotel | Limited Release | | Disney Store |
| Kylo Ren | Limited Release | | Disney Store |
| Mickey 2016 – Blue | Limited Release | | Shop Disney Parks |
| Mickey 2016 – Pink | Limited Release | | Shop Disney Parks |
| Pop Warner 2015 – Cheer & Dance Championships | Limited Release | | eBay |
| Pop Warner 2015 – Super Bowl 59 | Limited Release | | eBay |
| Rogue One – Imperial Death Trooper | Limited Release | | Disney Store |
| Rogue One – Sergeant Jyn Erso | Limited Release | | Disney Store |
| runDisney 2015 Blue | Limited Release | | eBay |
| runDisney 2015 Pink | Limited Release | | eBay |
| runDisney 2016 | Limited Release | | Shop Disney Parks |
| Santa Mickey Mouse and Friends Holiday 2016 | Limited Release | | Disney Store |
| Sorcerer Mickey with Ice Cream Bar 2015 | Limited Release | | eBay |
| Zootopia | Limited Release | | eBay |
| 101 Dalmations | On Demand | | eBay |
| 20,000 Leagues Under the Sea | On Demand | | eBay |
| Alice in Wonderland Goth | On Demand | | eBay |
| Americana Mickey | On Demand | | eBay |
| Ariel | On Demand | | eBay |
| Aurora | On Demand | | eBay |
| BB-8 | On Demand | | eBay |
| Belle | On Demand | | eBay |
| Belle Castle | On Demand | | eBay |
| Big Thunder Mountain Railroad | On Demand | | eBay |
| Boba Fett | On Demand | | eBay |
| Boba Fett Animation | On Demand | | eBay |
| Bride | On Demand | | eBay |
| C-3PO and R2-D2 | On Demand | | eBay |
| Captain Phasma | On Demand | | eBay |
| Cartoon Boba Fett | On Demand | | eBay |
| Cartoon Chewbacca | On Demand | | eBay |
| Cartoon Han and Leia | On Demand | | eBay |
| Cartoon Luke and Yoda | On Demand | | eBay |
| Cartoon Vader and Stormtroopers | On Demand | | eBay |
| Castle | On Demand | | eBay |
| Cinderella | On Demand | | eBay |
| Daisy Duck Signature | On Demand | | eBay |
| Dark Side Christmas | On Demand | | eBay |
| Donald Duck Signature | On Demand | | eBay |
| Dreidel | On Demand | | eBay |
| Duffy | On Demand | | eBay |
| E-Ticket | On Demand | | eBay |
| Elena of Avalor | On Demand | | eBay |
| Expedition Everest | On Demand | | eBay |
| Finding Dory with Hank | On Demand | | eBay |
| Finn | On Demand | | eBay |
| Flower Minnie | On Demand | | eBay |
| Goofy Signature | On Demand | | eBay |
| Groom | On Demand | | eBay |
| Grumpy | On Demand | | eBay |
| Haunted Mansion Dynamite | On Demand | | eBay |
| Haunted Mansion Hitchhiking | On Demand | | eBay |
| Haunted Mansion Quick Sand | On Demand | | eBay |
| Haunted Mansion Tightrope | On Demand | | eBay |
| Haunted Mansion Widow | On Demand | | eBay |
| Hipster Mickey | On Demand | | eBay |
| Hocus Pocus | On Demand | | eBay |
| It's a Small World | On Demand | | eBay |
| Jack Skellington | On Demand | | eBay |
| Jasmine | On Demand | | eBay |
| Join the Rebellion | On Demand | | eBay |
| Kylo Ren | On Demand | | eBay |
| Lighting McQueen | On Demand | | eBay |
| Luke and Vader Battle | On Demand | | eBay |
| Luke Skywalker Helmet | On Demand | | eBay |
| Main Street Electrical Parade | On Demand | | eBay |
| Maleficent | On Demand | | eBay |
| Merida | On Demand | | eBay |
| Mickey Clothes | On Demand | | eBay |
| Mickey Mouse Castle | On Demand | | eBay |
| Mickey Mouse Signature | On Demand | | eBay |
| Mickey Skateboard | On Demand | | eBay |
| Mickey's Philharmagic | On Demand | | eBay |
| Minnie Bows | On Demand | | eBay |
| Minnie Clothes | On Demand | | eBay |
| Minnie Mouse Castle | On Demand | | eBay |
| Minnie Mouse Signature | On Demand | | eBay |
| Monsters Inc. Mike and Sully | On Demand | | eBay |
| Mr. Toad's Wild Ride | On Demand | | eBay |
| Orange Bird | On Demand | | eBay |
| Peter Pan's Flight | On Demand | | eBay |
| Pie Eye Mickey | On Demand | | eBay |
| Pie Eye Minnie | On Demand | | eBay |
| Pirates of the Caribbean Mermaid | On Demand | | eBay |
| Pirates of the Caribbean Redhead | On Demand | | eBay |
| Pirates of the Caribbean Ship | On Demand | | eBay |
| Pirates of the Caribbean Skeleton | On Demand | | eBay |
| Pluto Signature | On Demand | | eBay |
| Poe Dameron | On Demand | | eBay |
| Princesses | On Demand | | eBay |
| R2-D2 | On Demand | | eBay |
| Rapunzel | On Demand | | eBay |
| Rey | On Demand | | eBay |
| Seven Dwarfs Mine Train | On Demand | | eBay |
| ShellieMay | On Demand | | eBay |
| Snow White | On Demand | | eBay |
| Snow White's Scary Adventure | On Demand | | eBay |
| Sorcerer Mickey | On Demand | | eBay |
| Space Mountain | On Demand | | eBay |
| Splash Mountain | On Demand | | eBay |
| Star Wars Empire Symbol | On Demand | | eBay |
| Star Wars Empire Symbol Melting | On Demand | | eBay |
| Star Wars Rebels Symbol | On Demand | | eBay |
| Star Wars Rebels Symbol Melting | On Demand | | eBay |
| Star Wars Symbols | On Demand | | eBay |
| Steamboat Mickey | On Demand | | eBay |
| Stitch | On Demand | | eBay |
| Stormtropper | On Demand | | eBay |
| Stormtropper from SW7 | On Demand | | eBay |
| The Mickey Mouse Revue | On Demand | | eBay |
| The Nightmare Before Christmas – Jack Head | On Demand | | eBay |
| The Nightmare Before Christmas – Jack Santa | On Demand | | eBay |
| The Nightmare Before Christmas – Sally | On Demand | | eBay |
| Tiana | On Demand | | eBay |
| Tinker Bell | On Demand | | eBay |
| Tower of Terror | On Demand | | eBay |
| Toy Story Woody and Buzz | On Demand | | eBay |
| Up House | On Demand | | eBay |
| Vader with Empire Symbol | On Demand | | eBay |
| Vader with Lightsaber | On Demand | | eBay |
| World of Cute | On Demand | | eBay |
| World of Evil | On Demand | | eBay |
| X-Wing and Tie Fighter | On Demand | | eBay |
| Year 2016 Mickey | On Demand | | eBay |
| Alice In Wonderland | Open Edition | | Disney Store |
| Animal Kingdom | Open Edition | | Disney Store |
| Ariel | Open Edition | | eBay |
| BB-8 | Open Edition | | Disney Store |
| Belle | Open Edition | | Disney Store |
| Boba Fett | Open Edition | | Disney Store |
| Chip 'n' Dale | Open Edition | | Disney Store |
| Christmas Sweater | Open Edition | | eBay |
| Cinderella | Open Edition | | Shop Disney Parks |
| Cinderella's Castle | Open Edition | | Disney Store |
| Darth Vader Lightsaber | Open Edition | | Disney Store |
| Doc McStuffins | Open Edition | | Disney Store |
| Donald Signature | Open Edition | | eBay |
| Donald Signature [New Signature] | Open Edition | | Disney Store |
| Droids C-3PO and R2-D2 | Open Edition | | Disney Store |
| Dumbo | Open Edition | | Disney Store |
| Epcot – Figment | Open Edition | | Disney Store |
| Figment Green | Open Edition | | Disney Store |
| Finding Nemo | Open Edition | | Disney Store |
| Frozen – Anna | Open Edition | | Disney Store |
| Frozen – Elsa | Open Edition | | Shop Disney Parks |
| Frozen – Olaf | Open Edition | | Disney Store |
| Frozen Ever After  – Elsa | Open Edition | | Disney Store |
| Frozen Ever After  – Olaf | Open Edition | | Disney Store |
| Frozen Ever After – Anna | Open Edition | | Disney Store |
| Genie | Open Edition | | Disney Store |
| Goofy Signature | Open Edition | | eBay |
| Goofy Signature [New Signature] | Open Edition | | Disney Store |
| Grumpy | Open Edition | | eBay |
| Hitchhiking Ghosts | Open Edition | | Disney Store |
| Hollywood Studios | Open Edition | | Disney Store |
| Inside Out | Open Edition | | Disney Store |
| Jack Skellington | Open Edition | | Disney Store |
| Jake and the Never Land Pirates | Open Edition | | Disney Store |
| Jiminy Cricket | Open Edition | | Disney Store |
| Luke Skywalker Rebel Alliance Blue | Open Edition | | Disney Store |
| Maleficent | Open Edition | | Disney Store |
| Marie | Open Edition | | Disney Store |
| Mickey and Minnie Christmas | Open Edition | | eBay |
| Mickey Mouse Line Drawing Blue | Open Edition | | Shop Disney Parks |
| Mickey Signature | Open Edition | | Disney Store |
| Minnie Mouse Dots | Open Edition | | Shop Disney Parks |
| Minnie Mouse Line Drawing Pink | Open Edition | | Shop Disney Parks |
| Minnie Mouse Paisley | Open Edition | | Disney Store |
| Minnie Signature | Open Edition | | eBay |
| Minnie Signature [New Signature] | Open Edition | | Disney Store |
| Orange Bird | Open Edition | | Disney Store |
| Pirates of the Caribbean | Open Edition | | Disney Store |
| Pluto Signature | Open Edition | | eBay |
| Pluto Signature [New Signature] | Open Edition | | Disney Store |
| Princess Tiana | Open Edition | | Disney Store |
| Princesses | Open Edition | | Disney Store |
| Rapunzel | Open Edition | | Disney Store |
| Rey | Open Edition | | Disney Store |
| Sheriff Woody and Buzz Lightyear | Open Edition | | Shop Disney Parks |
| Sofia The First | Open Edition | | Disney Store |
| Sorcerer Mickey | Open Edition | | Disney Store |
| Steamboat Mickey | Open Edition | | Disney Store |
| Stitch | Open Edition | | Disney Store |
| Stormtrooper Blue | Open Edition | | Disney Store |
| Stormtroppers Empire Red | Open Edition | | Disney Store |
| Tigger | Open Edition | | Disney Store |
| Tinker Bell | Open Edition | | Disney Store |
| Villains | Open Edition | | Disney Store |
| Winnie the Pooh | Open Edition | | Shop Disney Parks |
| Authorized Ticket Seller Conference 2015 | Promotional | | eBay |
| Awaken Summer BB-8 | Promotional | | eBay |
| Board of Directors 2015 | Promotional | | eBay |
| College Program Alumni Homecoming 2016 | Promotional | | eBay |
| D23 Destination D 2014 | Promotional | | eBay |
| Disney Dreamers Academy – Blue | Promotional | | eBay |
| Disney Dreamers Academy – Gray | Promotional | | eBay |
| Disney Dreamers Academy – Green | Promotional | | eBay |
| Disney Dreamers Academy – Orange | Promotional | | eBay |
| Disney Dreamers Academy – Red | Promotional | | eBay |
| Disney Dreamers Academy – Yellow | Promotional | | eBay |
| Disney Parks Blog – Mickey Bar | Promotional | | eBay |
| Disney Parks Blog – Orange Bird – Yellow | Promotional | | eBay |
| Disney Parks Blog – Orange Bird – Orange | Promotional | | eBay |
| Disney's Fairy Tale Weddings Bride | Promotional | | eBay |
| Disney's Fairy Tale Weddings Groom | Promotional | | eBay |
| E-Ticket | Promotional | | eBay |
| EarMarked Conference 2014 | Promotional | | eBay |
| Executive Management Meeting 2013 | Promotional | | eBay |
| Journey Into Imagineering Open House | Promotional | | eBay |
| Mike & Mike ESPN 15th Anniversary | Promotional | | eBay |
| Seven Dwarfs Mine Train | Promotional | | eBay |
| VIP 2015 | Promotional | | eBay |
| VIP 2016 – Walt Disney | Promotional | | eBay |
| Prototypes, including Be Our Guest Test | Prototype | | eBay |
| Blue | Solid Color | | Disney Store |
| Gray | Solid Color | | Disney Store |
| Green | Solid Color | | Disney Store |
| Orange | Solid Color | | Disney Store |
| Pink | Solid Color | | Disney Store |
| Purple | Solid Color | | Disney Store |
| Red | Solid Color | | Disney Store |
| Yellow | Solid Color | | Disney Store |