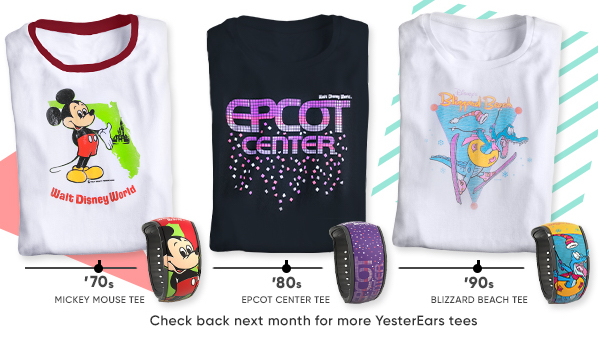 Three new Limited Release MagicBands have shown up on DisneyStore.com, and they are available for only one week from April 20th – April 27th, 2017. This is the first time Disney has done a Limited Release for a specific time period that includes MagicBands, and at this time it appears that they're a DisneyStore.com exclusive only. If you want these at all, I suggest you buy them as soon as possible before they are gone. Just a word of warning… these are said to take 6-8 weeks to ship.
The bands are from the YesterEars collection and celebrate a retro Disney past. They are actually being released with a matching shirt to complete an entire outfit around a theme. The image on the Disney Store also states to check back next month for more tees, and if these MagicBand sales are successful, we're likely to see more matching bands as well. I am excited as I love the retro designs and ideas on Limited merchandise.

If you are a collector of Disney or MagicBands like myself, I highly suggest you purchase the matching shirt with each MagicBand, as the pairing together will be more desirable in the long term than just the band by itself in my opinion. You can find the shirt/band pairing by clicking here. I personally will be buying the shirts with the bands.
The Limited Release MagicBands include (click the links for purchase):
And here are some pictures: