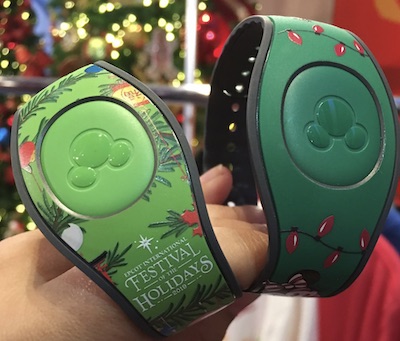 Today at a Disney Holidays media and press event, a number of new merchandise items were revealed for the 2019 Christmas season. Among those items were three new MagicBands. One was a Limited Edition band for the Mickey's Very Merry Christmas Party paid event at the Magic Kingdom (starting November 8th), another was for the Epcot International Festival of the Holidays (starting November 29th) band which also appears to be a Limited Edition, and the final band appeared to be either a Limited Release generic Christmas band.
The Limited Edition bands will be $34.99 each and the Limited Release Christmas band will be $29.99. I don't yet know the SKU's of these bands or what the boxes will look like, nor do I know the Limited Edition sizes, but as more information comes out as Christmas approaches I'll add that info to the site.
These MagicBands will not be sold online from Disney, but you can buy them from eBay online by clicking this link which will take you right to the product listings (when they become available).