Stitch Crashes Disney, a new product line from shopDisney for their MerchPass purchasing system, is coming starting January 12th, 2021. Like the Minnie Mouse: The Main Attraction product line in 2020, the Stitch Crashes Disney line will also have monthly releases (12 in total) that will include a newly themed Stitch MagicBand. The monthly releases will be based upon Disney classic movies. The January release will be for Beauty and the Beast. If the past is any indicator, these bands will be in a special box and be priced at $34.99, despite being listed as a Limited Release instead of a Limited Edition product.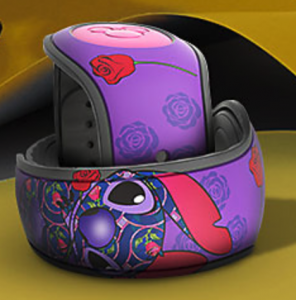 Here is what is scheduled so far for release with upcoming MagicBands:
Jan – Beauty and the Beast
Feb – Lady and the Tramp
Mar – Lion King
Apr – The Little Mermaid
May – Pinocchio
Jun – Aladdin
You'll be able to find purchases links by clicking here (as they become available).
Here's a preview directly from Disney. The MagicBand is in the bottom right corner: