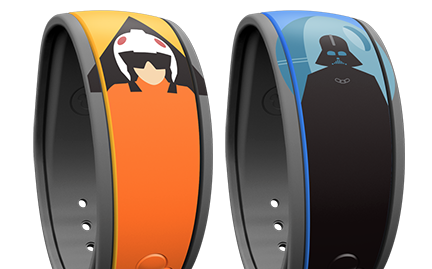 May 4th is considered Star Wars Day and has a special saying associated with it of "May the 4th be with you". May 5th is also a special day as well, with an addition saying of "Revenge of the 5th". In recognition of those days Disney has often released special merchandise to celebrate them, and today is no different. For the first time ever Disney has released two special Limited Edition MagicBands for these days, and they are limited to 750 each per style.
These bands retail for $32.99 and can only be found in The Dark Room and Mickey's of Hollywood in Disney's Hollywood Studios theme parks. I was told they were also in The Launch Bay, but when I went there I didn't see any. You cannot buy these online or through the Shop Disney Parks mobile app. Because these are only limited to 750 each, they will go fast, as these are the lowest released MagicBands ever made for the walk-up public to buy. When I bought mine, I was told that they are 1 per person, not 2 per person like other LE bands have been.
Update: These do make special lights and sounds at touch points. See the article here for details.