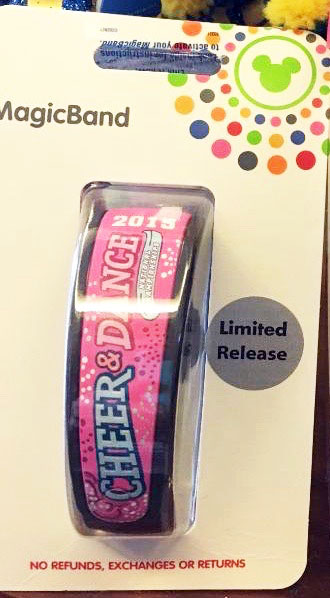 A new Limited Release MagicBand was announced for the Pop Warner 2015 Cheer & Dance National Championship held at the ESPN Wide World of Sports Complex in Walt Disney World. The MagicBand will be available from December 5th – December 12th, 2015 at the ESPN complex. You can see a list of the scheduled events here.
This band is a Limited Release and retails for $24.95. It will not make lights and sounds at touch points, but I can assure you that this will be a rare band in the future, as I doubt many of these were made. I would be surprised if they produced more than 500 or 1000 of them. You can buy this MagicBand is the ESPN Clubhouse Shop near the ticket booth. No entry is required into the ESPN Complex to purchase one.
Special thanks to Scott of the Disney Cruise Line Blog for notifying me about the release of this band.