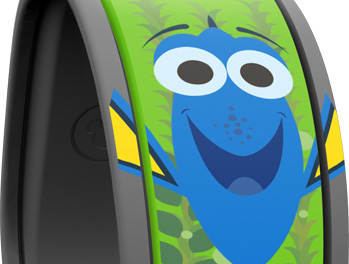 UPDATE: I have gotten word that these were accidentally released early, and have been pulled from the shelves. They will be for sale this Friday, June 17th, which is the release date of the movie in theaters.
At The Dino Institute Shop at the exit to the Dinosaur ride in Animal Kingdom, a new Limited Edition 3500 Finding Dory MagicBand has appeared for sale. The band should make lights/sounds at some touch points, and I will confirm as soon as possible. The SKU for this item is 400000498348.
It's unknown at this time if/when these will appear online for sale in the Shop Disney Parks app or Disney Store.
Special thanks to reader Cassandra for the tip!
Here's some pictures of what the band looks like: