Since at least February 1st, 2015, Aulani, an official Disney resort in Hawaii, has been using custom made graphic MagicBands in their kids club called Aunty's Beach House, similar to the ones in use in the Youth Activities Oceaneer's Club on Disney Cruise Line.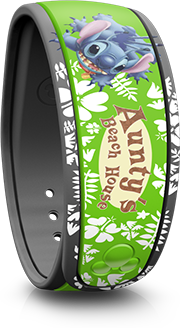 This specific MagicBand is themed with Stitch, one of the main character's used at the Aulani Resort. When you drop your child off at Aunty's Beach House, they will be given this special MagicBand around their wrist that allows them to come in and out of the kids club as they please. It requires a small deposit to be put down for the band. Once they are done with the club, the MagicBand must be returned or else the deposit is forfeited.
Most kids will have a band with the gray strap removed because of the small wrists children have. Finding one of these bands with the gray strap on will be difficult.