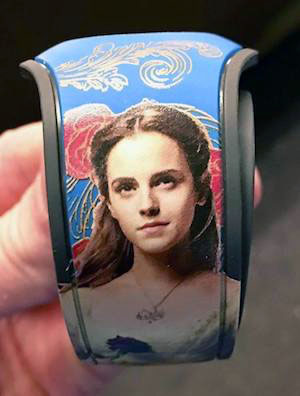 UPDATE: This band is now available in the Shop Disney Parks mobile app.
The new Beauty and the Beast MagicBand is now out and available at the Magic Kingdom. The band, which I posted about just a few days ago, has appeared in the Frontier Trading Post shop. It's unclear at this time if it's out for sale anywhere else, as it may have been released a bit early at this one specific store. Special thanks to reader Ryan for sending in some pictures and some details.
As I mentioned earlier, the band is blue, shows Belle (played by Emma Watson) in her yellow dress, and is Limited Edition 2500. I don't yet have a video of the touch point special effects for this band.