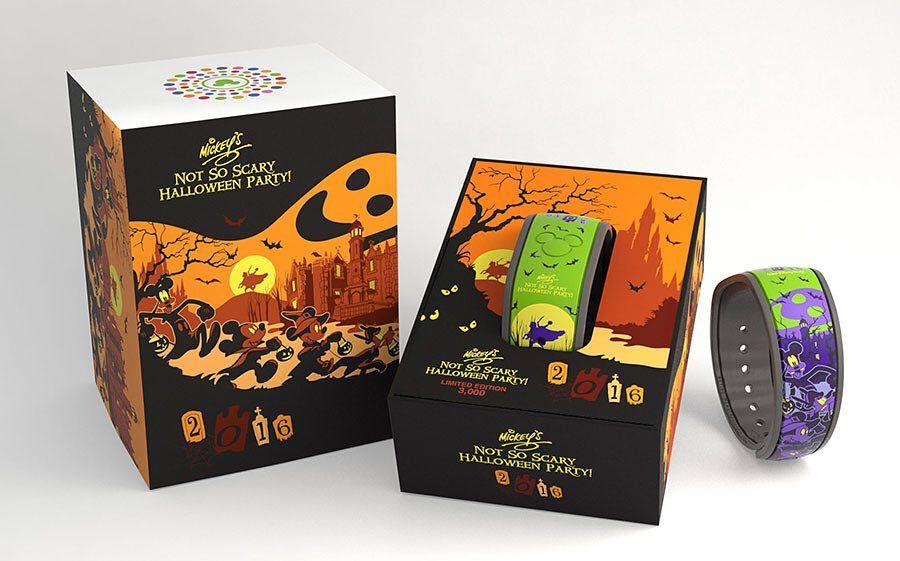 Today the Disney Parks Blog revealed the graphics and edition size for the Limited Edition 2016 Mickey's Not-So-Scary Halloween Party MagicBand. The box does indeed have the graphics I predicted it would have just a few days ago. The band limited edition size has again been lowered this year to only 3000 (from 4000 in 2015, and 5000 in 2014), as Disney has had trouble selling all of the bands at previous parties. Hopefully this will make them a bit more exclusive. You can expect to see these on sale starting at the first party on September 2nd, 2016 for $32.99 each.
These items will not be available via the Shop Disney Parks app or the Disney Parks online store, and because of the lowered edition size I'm doubtful you'll see these appear in the Disney Orlando-area outlets in 2017. The MagicBand will be released at Emporium and Box Office Gifts on Main Street, U.S.A in the Magic Kingdom during party hours only. You must show your party wristband to purchase one.
Once I obtain one of the bands I'll be sure to post a video of the special effects at touchpoint locations.