New E-Ticket MagicBand On Demand design now available in the Magic Kingdom
There is a new MagicBand design at the MagicBand On Demand station in the Magic Kingdom. This new retro E-Ticket design is out and available now. If you don't know what a Disney E-Ticket was, you can read the Wikipedia article about it here.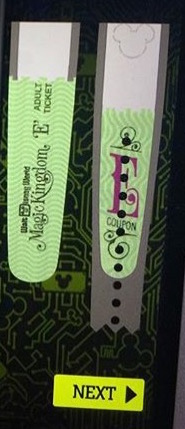 The E-Ticket design has been one of the most sought-after designs for Disney fans and collectors. It's a classic retro design that brings a lot of nostalgia to the most hardcore Disney fanatics. A promotional E-Ticket band, which was only given away to a select group of people as a gift back in 2013, was one of the first graphic deigns to ever appear on a band, and when it comes up for sale (which is pretty much never) it can command in the price range of beyond $1500. It's nice to see Disney is giving fans who can't obtain one a chance to have something similar in On Demand design.