Version B
The runDisney 2015 Disney Princess Half Marathon was from February 19-22, 2015. Version B was sold starting February 19th, 2015 and was for sale at the ESPN Clubhouse Shop through 2015.
This MagicBand was identical to the blue 2015 Marathon Weekend MagicBand (see below) but has one minor difference: This one states Limited Release on the back of the MagicBand while the other one (Version A) does not. All other details are the same as the pink version (see above). Here's a picture: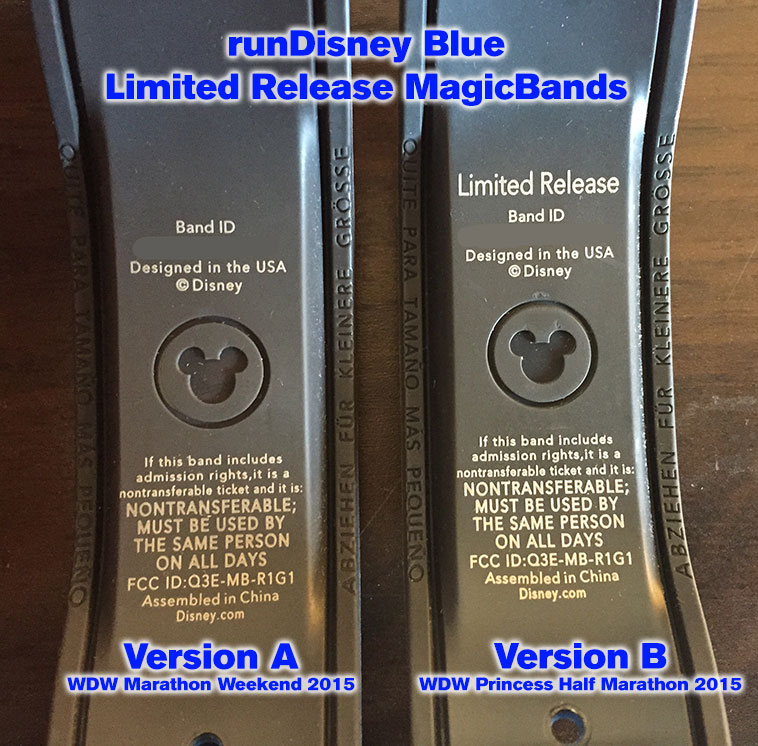 Version A
The runDisney 2015 Marathon Weekend ran (no pun intended) from January 7-11, 2015 and the runDisney 2015 Disney Princess Half Marathon from February 19-22, 2015. This is the first year a runDisney MagicBand was made available to purchase. The MagicBand does not say "Limited Release" on the inside of the band. It's just blank.
The band was available to the public at the runDisney Marathon Weekend in the Jostens Center at the ESPN Wide World of Sports Complex. It was in the runDisney Official Merchandise area, and you could grab one of these while waiting in line to check-out. They sold out the first day (January 7th) of the Marathon Weekend. Rumors from Cast Members indicated that only 1000 were made for that event.
All bands were set to Link-It Later in order to speed up checkout. Cast Members did not need to activate any of the MagicBands; they were set that way ahead of time. Also, all packaging came attached with a MagicBand instruction booklet in English. Disney's merchandise SKU barcode for this MagicBand is 400009259964.