Fairy Tale Weddings – Groom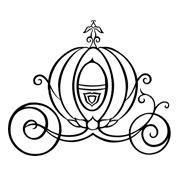 These special MagicBands celebrating weddings hosted by Disney's Fairy Tale Weddings & Honeymoons started making their way to guests in February 2016. That is the only way to obtain these MagicBands currently. The MagicBands indicate Bride and Groom and come in special boxes.  The box says "Something Blue" as it's a wedding tradition to get something blue before getting married. The bands do not say Limited Edition or Limited Release on the back, and it is inscribed with the person's name who is getting married. There was no extra charge to obtain these (they were a free gift with the wedding planning and booking through Disney) and they always come in blue with these designs. These are only for couples doing a Wishes wedding. Couples doing Escape or Memories weddings do not receive these MagicBands.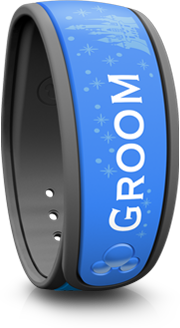 The box itself is fully light baby blue, including the side with the MyMagic logo, which has up until now always been in white. The bands were shipped from the same shipping department and location that normal Annual Passholder and resort-stay guests get their free MagicBands from. This may be due to the fact that the bands need to be inscribed on the back with the guest's name and this is the only location that has the logistics to do that. From what I have heard, these bands do not make special lights/sounds at touch points in Walt Disney World, as they are not considered Limited Edition (I would categorize them as promotional gifts instead). Guests do have the options of getting two Groom bands and two Bride bands if they wish for same-sex marriages.