These are promotional images shown by Disney before MagicBands launched. Interestingly, the child/adult detachable strap was originally the same color as the band itself. Now they are gray, probably to make them more visible to guests that the strap is removable. 
MagicBands were originally also supposed to have purple as a color, and orange is also not shown in this picture (or is it yellow that is not shown… the color below is a mix). Purple is now available for purchase as of December 2015.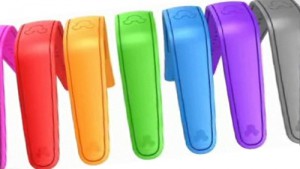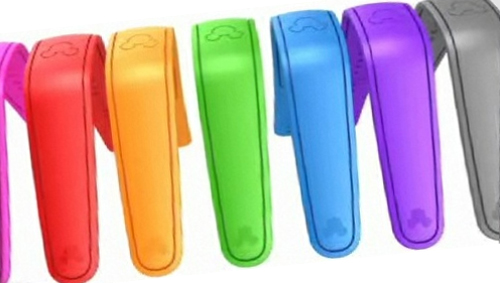 Here's former Disney executive John Padgett with a purple MagicBand before it was released, who was an essential part of the MyMagic+ rollout for the company. The MagicBand looks like it may have been digitally added to his wrist for this promotional photo.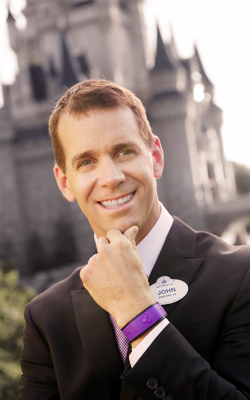 Disney has also shown pictures of customized MagicBands that have yet to be released. These look like something you'd be able to get at D-Tech on Demand. Disney now has MagicBand on Demand, which does allow names to be printed on bands, although they are not quite as customizable as what this picture shows: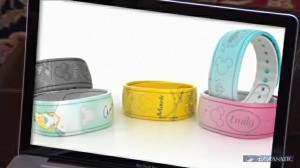 Here is a promo shot of a kid wearing a Pirates of the Caribbean MagicBand that is unreleased. A different Pirates-themed band has made its way to the park though. See here.
Disney also had some internal artwork of new packaging (which is now in use) along with a pink Aurora from Sleeping Beauty MagicBand (which you can now get from MagicBand on Demand). The Open Edition MagicBand shown in the picture below, with no graphics on the holes side and in this specific packaging, has never been released.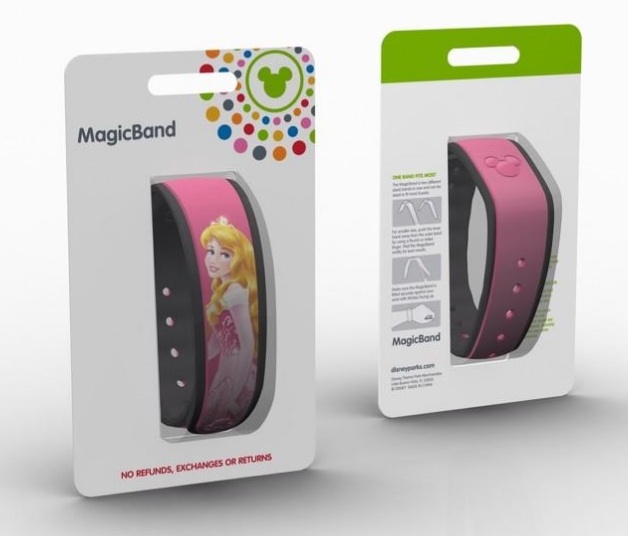 These two Buzz and Woody Toy Story MagicBands have never been released although official graphics exist for them. They differ slightly from the Buzz/Woody band currently for sale. The one on the left has additional clouds above Woody, and the one on the right is zoomed in and does not show Buzz's legs. It's unknown if either of these will eventually get released.
A Disney Parks Blog post accidentally posted an On Demand design that was cancelled. A black and white version of a slightly different design was quickly put in it's place after the mistake was discovered.

There were a number of graphic MagicBand 2's shown at the 2016 D23 Destination D event that haven't yet been released. In this picture from left to right is Olaf Frozen Ever After, Minnie Mouse Signature (now released), Finding Nemo (now released), Steamboat Mickey (now released), and Inside Out (on the far right… you can't really see it in the picture) all in MagicBand 2 form.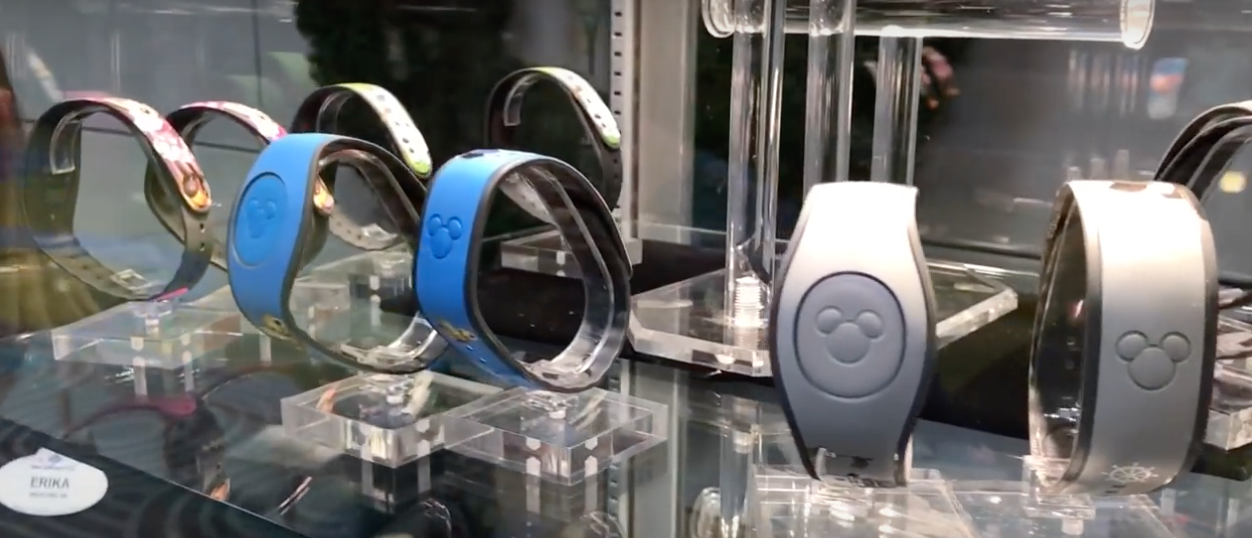 In this picture from left to right we have Tinker Bell (now released), Maleficent (now released), Grumpy (now released on black, but never on gray as shown), and Darth Vader Open Edition (now released). The Destination D band in the middle has been released and was a gift at the event.
In this final picture we have a Belle MagicBand 2.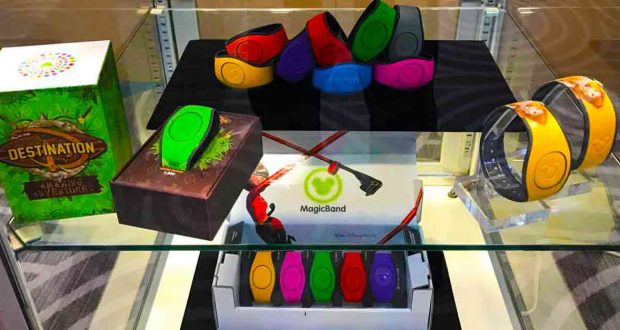 This Alice MagicBand 2 shows in a zoomed picture and was never released with the graphic quite like this. As you can see, her arm goes over the Mickey head at the bottom, and the release graphic doesn't do that.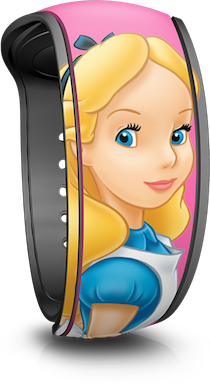 These are some band and box designs for the Seven Dwarfs Mine Train press event band that were never released. Prototypes of the white box and the band with the long train were produced in single digit quantities to test how it appeared on the band in person. Ultimately, the long train was scrapped as Disney didn't feel as though the Mine Train logo was big enough. I am unsure why Disney decided not use the Mine Train box and used the Incredibles box instead. It could have had something to do with brand messaging being cohesive across the new MyMagic+ system at the time.