Mike & Mike ESPN 15th Anniversary
For those of you who aren't sports fans, the former talk radio and TV sports show Mike & Mike, formerly Mike and Mike in the Morning, was very popular. I've watched it a few times myself, as I am a sports fan (go Seahawks and Mariners). It aired on ESPN Radio and ESPN2, which are both owned by Disney, and was hosted by two guys who are both named Mike. When the show turned 15 years old, to celebrate the show was broadcast live from the Waterside Stage at Downtown Disney Marketplace on Friday, March 6, 2015 from 6 a.m. – 10 a.m. Guests were invited to join the festivities and be a part of the live audience. You can read more about the event on Disney Parks Blog.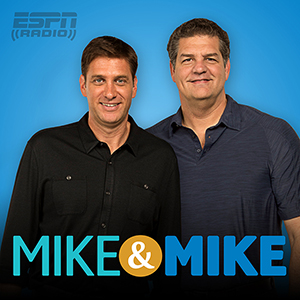 Special graphic MagicBands were made for the event, but unfortunately these bands were not made for the public. I can confirm that both Mike Golic and Mike Greenberg have this MagicBand themselves. When I asked the ESPN marketing department directly if there was any way to obtain them, they said, "Unfortunately, no. We had these made for our staff/crew and special friends of the show." They were given out on March 4th, 2015 to ESPN employees who worked specifically on this event at Walt Disney World. I would be very surprised if more than fifty (50) of these exist.